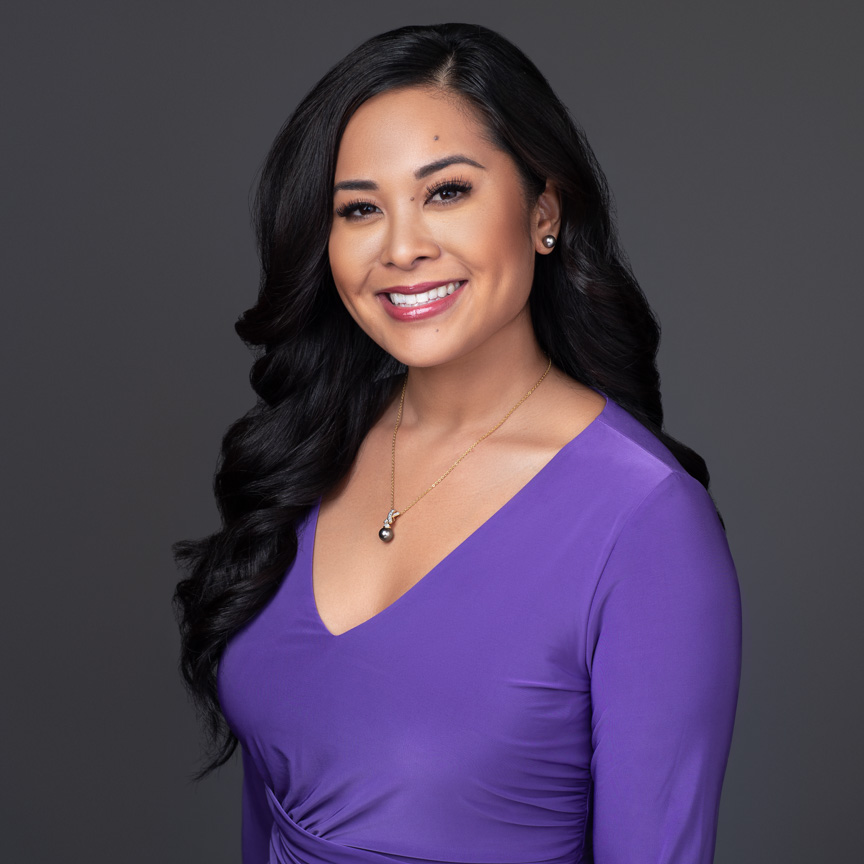 I became a journalist to come as close as possible to the heart of the world. – Henry Luce
News Anchor/Reporter Reels
Dance Videos & Accomplishments
EXPERIENCE
TV Host/Producer "Hawaii Now" KGMB/KHNL Gray Television
March 2018 – Present
HONOLULU, HI
Successfully launched new lifestyle content show April 2018.
Host, produce, write and help edit 15 to 20, 3-minute segments every week for TV, digital and social.
Host and produce 1-hour lifestyle show, which airs Saturdays at 6 p.m. on the local NBC Channel (KHNL).
Work closely with clients to ensure focus and messaging of each segment is clear and accurate.
Conduct interviews and implement creative storytelling to produce high-quality segments.
Engage viewers on various digital platforms and produce web scripts for www.hinowdaily.com.
News Reporter, KGMB/KHNL Raycom Media
Jan. 2016 – March 2018
HONOLULU, HI
Generate story ideas, research and conduct interviews as general assignment reporter.
Write and voice stories, then present them live on designated newscasts.
Actively engage viewers on various digital platforms, including Facebook, Twitter and Instagram.
Produce web scripts for station website, www.hawaiinewsnow.com.
News Reporter/Traffic Anchor KETV Hearst Television                      Oct. 2013 – Dec. 2015
OMAHA, NE
Produced and presented live traffic reports during weekday morning newscasts.
Generated story ideas, researched and conducted interviews as general assignment reporter.
Wrote and voiced stories, then presented them live on designated newscasts.
Updated traffic and news information on various digital platforms including station website, www.ketv.com.
MMJ/Anchor/Producer, KHGI/KFXL Pappas Telecasting
Aug. 2012 – Oct. 2013
KEARNEY, NE
Served as a multimedia journalist and fill-in anchor filming, writing and editing packages/VOSOTS.
Produced 6:30 p.m. and 9 p.m. weekday newscasts and all four weekend newscasts.
Produced Good Morning Nebraska, a two-hour program of news, live interviews and cooking segments, along with cut-ins during ABC's Good Morning America.
Updated viewers on various digital platforms, including station website, www.nebraska.tv.
News Intern, KSWB-TV Tribune Broadcasting
Aug. 2011 – May 2012
SAN DIEGO, CA
Assisted in writing scripts and teases for morning newscast.
Assisted producers in booking and coordinating guests.
EDUCATION
San Diego State University
Aug. 2007 – Dec. 2011
SAN DIEGO, CA
B.A., Communication with a minor in Public Relations
San Diego City College
Jan. 2012 – May 2012
SAN DIEGO, CA
Studied Radio, TV and Film.
Anchored Emmy-award winning student news broadcast "Newscene" on ITV, the County Education Channel.
Served as multi-media journalist and presented news stories live in studio.
Produced and presented weather, entertainment and sports segments live in studio.
AWARDS
1st Place General Reporting – 2015 Great Plains Associated Press
ADDITIONAL SKILLS
Host and emcee charitable and promotional events
Judged Miss Windward Oahu 2018 pageant
Tagalog, Sign Language
Adobe Premier, Final Cut Pro, Edius, Microsoft Office
ENPS, NewsKing
Newsource, Pathfire, Social Media (Facebook, Twitter, Instagram)
AFFILIATIONS
Asian American Journalists Association (AAJA)
Tahitian dancer for award-winning Polynesian group, Ma'ohi Nui
REFERENCES
Available upon request.
Contact Me For Professional Inquiries
Jobeth Devera
jobethdevera@gmail.com